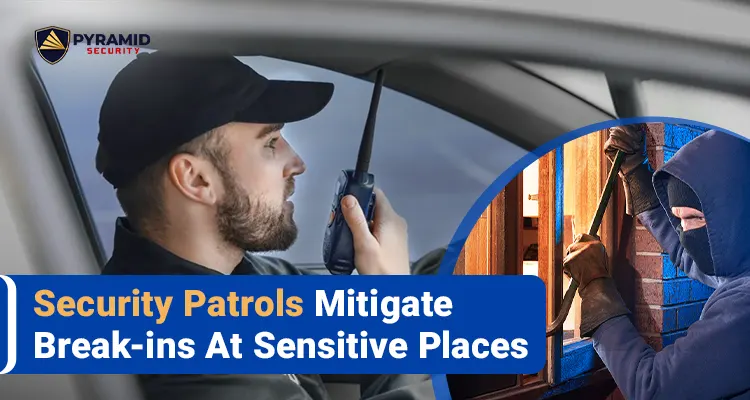 Security Patrols Mitigate Break-ins At Sensitive Places
May, 12 2023
Security of premises is imperative for prevention against criminal activities. Patrolling is a leading security solution to thwart illegal access to your sensitive areas. The security officers make sure that your place is safe and sound. For this purpose, they remain vigilant and attentive throughout their duty. Sometimes only their presence is enough to keep the trespassers and burglars at bay. Hiring security patrols for the safety of your working place, construction sites or any other place is the best option. If you also want to work in a peaceful environment, you can hire the reliable services of Pyramidsecurity. Our proficient security guards are competent enough to handle every emergency smartly.
Ways to Prevent Crimes At Your Place
Many people hire security guards for the safety of their residences, office, or any mining site. They have made people's life easy by providing the finest security. Some of the ways they take to prevent crime such as theft, vandalism, or any kind of illegal activity are below:
24/7 Availability
Our Mobile Security Patrol Services are dedicated to providing top-notch protection services around the clock. No matter if it is day, night, winter, or summer, they guard your premises. They protect your place on foot and on vehicles too. After seeing the security outside your place, the burglars will not even try to come closer to it. We ensure that you work in a peaceful environment and whenever you're on holiday, you can enjoy it without being stressed about your office, home, or construction site.
Quick Response by Security Guards
The presence of security guards is sometimes enough to deter any illegal activity. A security guard standing outside your place will make the thieves and vandals think a hundred times before doing anything wrong. They know that they will be caught within minutes and will have to face serious consequences. That's how security guard duties make people comfortable in their working place and deter vandalism.
Patrolling Guards
The primary goal of any security patrol is to immediately deter and report the crime. The guards must be trained enough that they respond quickly whenever any emergency happens. Pyramidsecurity trained its guards very well so that they are the first ones to deter and mitigate any situation. Our guards are capable enough to protect people in case of any illegal activity. Thus, you can have the finest security services in Perth just by calling us.
Armed Security Guards
Situation determines the need for armed security and it is of par excellence when it comes to counter dangerous attacks or insurgency attempts. They make people feel much more secure than unarmed officers. However, hiring licensed and certified teams like Pyramidsecurity is crucial. They keep hawks' eyes on every illegal activity to deter them from entering your premises. However, people who are facing life threats such as politicians or any public figure can hire personal guards for their security.
Mobile Patrolling Service
Our mobile security patrol services are here to protect you people. They are not only responsible for monitoring and responding to emergency alarms but also for monitoring the places that are not visible on security cameras. Companies like Pyramidsecurity provide emergency services and are available around the clock. Their goal is to suspect any unusual behavior and prevent crimes.
Security Alarm Response
Most of the time people and security guards are at ease knowing that they have security alarms in their premises that are monitored by using the most up-to-date control room. The purpose of these alarms is to keep everything in its notice. If anything wrong happens, they will let the guards know. Pyramidsecurity has dependable officers that respond quickly whenever there is an emergency. Our alarm response services aim to secure your valuable premises from uninvited troubles and criminal actions.
Observing Guards
Security patrols carefully notice the surroundings and are always on alert. At Pyramidsecurity, our officers are trained enough to suspect any unusual behavior and take action even before the happening of a crime such as vandalism, robbery, or any other illegal activity. That's why, guards carefully check every person, their car model, and license plate number before entering the office, bank, school, or any other commercial place. Moreover, they judge people from their physical appearance as well.
Final Note
It's important to hire security patrols to protect your property. The presence of security guards outside your premises dramatically reduces the chance of any crime or robberies. Thieves always avoid places with security guards because they know that there is a high risk of being caught and injured. Are you in search of reliable Patrol Security Services in Perth? Look no further than Pyramidsecurity. We have a team of dedicated officers who provide exceptional services to the people of Perth. We aim to provide peace of mind to people so that they can work without stressing about unnecessary things. Get our exceptional security services to have an ultimate sense of protection.