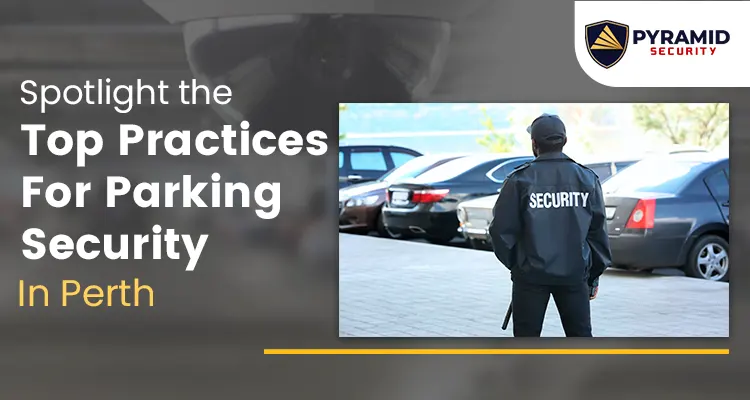 Spotlight The Top Practices for Parking Security in Perth
July, 14 2023
Vehicles are a big investment. Whether you own a construction site or throw an event, it is compulsory to make your parking area also secure from illegal acts. Where there is no security, the burglars take advantage of it to do illegal acts. Never risk your and others' life by showing negligent behavior. Always hire professional security services in Perth to make your parking lot highly secure from uninvited troubles. Check out the top practices that are followed by security services to protect your parking area from any kind of illegal activity.
Top Practices to Make Parking Areas Highly Secure
Here is a list of top practices that help in making your parking areas secure from any uninvited troubles.
Keep your Vehicle Keys
The security officers available at the parking areas not only keep the area secure but also keep your vehicles secure. You can hand over your car keys whether at an event or home parking area. The security officers keep your vehicle keys overnight and if someone tries to steal them. In return, the security officers take instant action against it to save your vehicle from any theft.
Check Vehicles Thoroughly
The security officers are constantly available in the parking lot. They check each and every vehicle. After this, they allow people to park their vehicles in the parking of your event, construction site, etc. Checking vehicles thoroughly can easily prevent various future problems. Experienced security officers use scanners and various other devices to check the cars thoroughly for better safety.
Keep Vehicles Organized
Managing vehicles, especially at concerts, events, etc is not an easy task; only an expert can manage it. Pyramidsecurity also offers traffic management services to keep the vehicles organized outside your place. Otherwise, havoc can create and criminals can take advantage of it. Like, they can easily do their illegal acts without being noticed. Escape this situation and acquire security services that can manage traffic and also keep the vehicles within the parking areas.
Never Leave your Valuables in Vehicles
Another best practice for secure parking is never to leave your valuable items in your vehicle. When you do that, it means you are inviting criminals for illegal activity. If there is no security in the parking, then a burglar can easily steal your valuable item. In turn, you have to bear bad consequences. For this, security at the parking site is essential, otherwise, try to keep the valuables in the vehicles where criminals cannot see them.
Always Lock your Vehicles
Try to lock your vehicles in the parking area. Some criminals take advantage of the unlocked car as they can hide drugs, and weapons in your vehicle. In turn, you have to bear bad consequences like the police can put you behind bars. For this, always lock your vehicle in the parking area. Always double check your car before leaving the parking area and save your valuable vehicle from theft.
Well Lit Parking Locations
Criminals take advantage of the dark to do illegal acts. Lights in the parking area is also another best practice to overcome crime issues. Well-lit parking areas mean a lower rate of crime cases. In lighting, the security officers can easily keep their eye on everything happening around or inside the parking area. If they find someone doing any illegal act, they immediately take action.
These simple practices are easy to adopt and you can follow them to enhance the security of your parking area. But, having on-site security guards also helps in fighting criminals in the best way. Our security officers are trained well to keep your parking area secure from troubles by providing constant duty, checking vehicles thoroughly, etc. Hire pyramidsecurity and get security as per your demands.